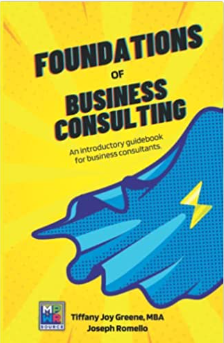 Foundations of Business Consulting
In this book, Tiffany Joy Greene, MBA, and Joe Romello establish the basic foundations that all business consultants need to know to be successful in their work. Through this deep dive into the world of business consulting, they share decades of experience and expertise in an easy-to-read guidebook filled with stories and practical advice for new and established consultants.
Check Out the Reviews On Amazon:
Sean K. Danowski gave the book 5 stars ⭐⭐⭐⭐⭐ on January 5, 2023, and wrote:
"While this book aims to assist B2B consultants in building their own consultancy practice, it also provides numerous examples and case studies that can help any business owner improve their brand and business. The authors provide a straightforward path to moving your business forward, illuminating the skills and processes necessary to either get started as a consultant or revisit a business that's in a rut.
It's easy-to-read, easy to understand, and I finished with several takeaways that I can begin to use immediately in my business to improve my results."